Tel: +86-311-85370180
Fax:+86-311-85370178
E-mail:info@jitainy.com
Add: No. 68th, Crown Road, Industrial Park, Zhao County, Shijiazhuang, China
Hebei Monband Water Soluble Fertilizer Co.,Ltd
Bacillus Aryabhattai is reported by FSHOW
Monband patent bacillus named Aryabhattai is reported by FSHOW on 3th August 2020
Monband patent bacillus named Aryabhattai is reported by FSHOW on 3th August 2020, the titled is "The Seminar of Bacillus Aryabhattai Reveal Its Secret of Silica Solubilization Hold By Monband Receives Universal Focus".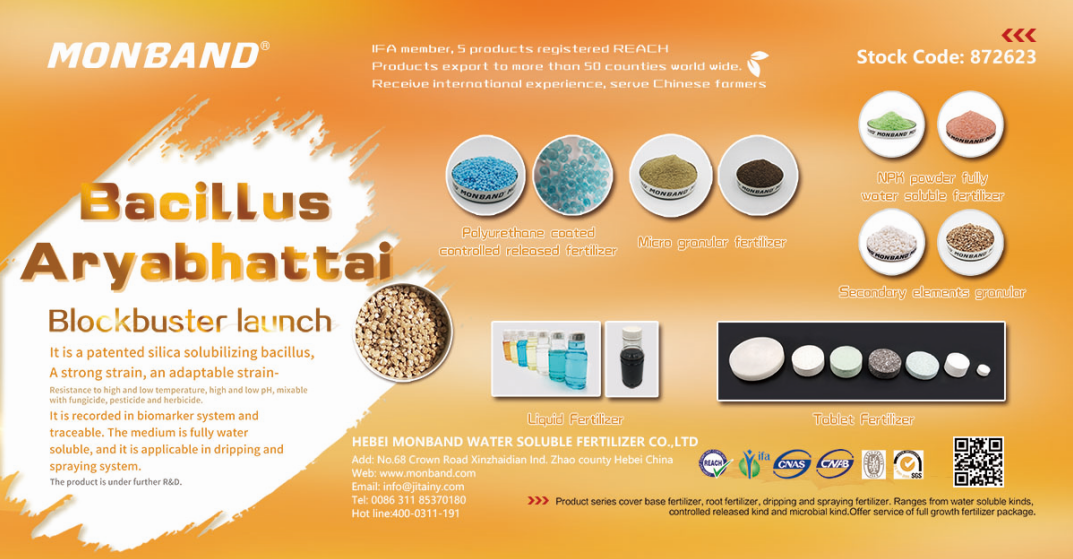 Dated 20th March,2020 the Seminar on Agricultural Applications of Silica Solubilization Bacillus was hold by China Agricultural Media and Monband Company, receives universal attention in fertilizer industry.
The high efficient silica solubilizing bacteria named Bacillus aryabhattai is selected and marked by Hebei Monband Water Soluble Fertilizer Co.,LTD. In 2019, it was registered at the ministry of Agriculture and Rural Affairs as microbial agent product. This bacteria's activity and silicon dissolubility is significantly better. Moreover, it is also benefit on plant activities that brings more practical applications during fertilizer product study. Silicon is not inert, it enhances mechanical strength, improves plant resistance, and it has important physiological functions. It improve yield increase harvest quality. Silicon works well on disease resistance and soil adjustment(heavy metal pollution and pH adjustment). In China there is large area of land lacks active silicon, so optimistic blueprint of silicon fertilizer.
Silica solubilizing bacteria fertilizer receives universal focus as a new type of fertilizer. It improves soil recovery and dissolved secondary and trace elements. It is a new idea and new path for product up-graduation or new route of industry reconstruction. One side it is sufficient end users request on quality and yield increase, the other side it is the right fertilizer to comply with industrial orientation-less fertilizer application and improve soil production. Base on the above new market need, Monband occupies market quickly with a most ideal mode of enterprise development.
Followed is the link http://en.fshow.org/news/show/id/131.shtml