Tel: +86-311-85370180
Fax:+86-311-85370178
E-mail:info@jitainy.com
Add: No. 68th, Crown Road, Industrial Park, Zhao County, Shijiazhuang, China
Hebei Monband Water Soluble Fertilizer Co.,Ltd
Monband: Focus on innovative research and development and improve brand building
Focus on innovative research and development and improve brand building
Hebei Monband Water Soluble Fertilizer Co., Ltd. is a high-tech enterprise in Hebei Province, a provincial enterprise technology center in Hebei Province, an innovative technology enterprise in Shijiazhuang City, a small and medium-sized enterprise with "expertise and innovation" in Hebei Province, a technology giant enterprise, a quality management system certification enterprise, and an intellectual property management system certification enterprise. In recent years, the company has been committed to innovative research and development relying on the existing platform and in conjunction with universities and research institutes, Create high-quality fertilizer and let the brand grow in quality.

R&D innovation, leading the development of enterprises, which represents the core competitiveness of enterprises and core technology patents, is particularly important, which is the key for enterprises to remain invincible in the future competition of intellectual property rights. Hebei Monband Water Soluble Fertilizer Co., Ltd. has continuously improved its products through scientific and technological innovation on the basis of the original water soluble fertilizer. Up to now, it has obtained 7 effective invention patents for water soluble fertilizer, 1 utility model patent and 1 accepted patent; At the same time, with the idea of improving soil and developing green agriculture, in conjunction with its wholly-owned subsidiary - Hebei Monband Biotechnology Co., Ltd., it has obtained 7 effective invention patents for microbial agents and soil conditioners, and has received 9 patents; See Table 1 for valid invention patents.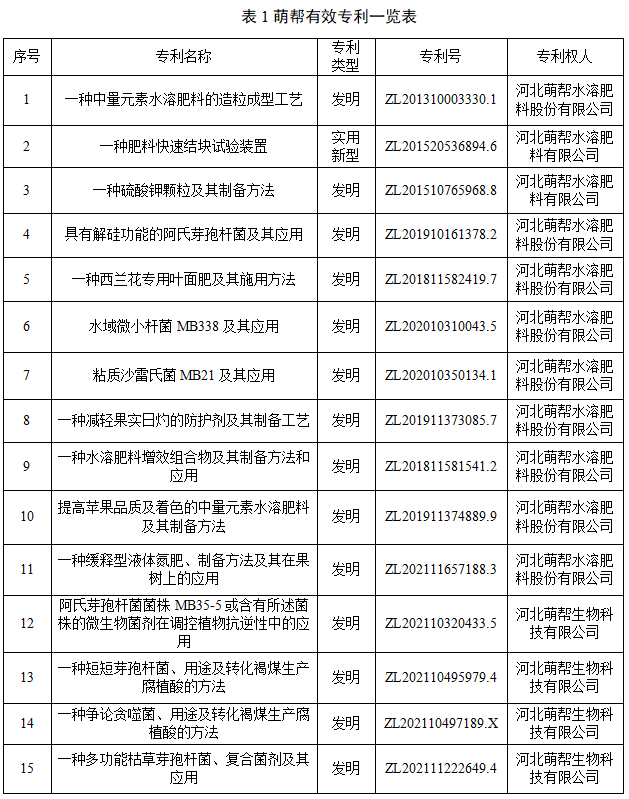 Based on originality, breakthrough and innovation, let the brand grow in quality. In the market competition with diversified demands, no brand is omnipotent. Only by grasping the technological gap, highly differentiated and distinctive scientific and technological innovation can we achieve "a little success in the midst of thousands of green trees". Therefore, Monband created two original technologies to fill the market gap: Bacillus aeruginosa with silicon removal function, and MBT technology combined with nano+microbial fermentation. At present, with the original technology - Bacillus aeruginosa MB35-5 as the core, two achievements have been identified. Among them, the "microbial agent for silicon hydrolysis MB35-5" has been identified as being at the international leading level, and the "research and development and application of Bacillus aeruginosa acid hydrolysis soil remediation agent" has been identified as being at the domestic leading level.

Shijiazhuang Agricultural Technology Popularization Center, in the "Technical Proposal for Golden Autumn Wheat Sowing" May 4th 3rd ", has selected the biological silicon supplement of the Company as a new technology, and has conducted experiments on the base application, seed dressing, foliar spraying and other silicon decomposing microbial fertilizers on autumn wheat in 2021 to explore their impact on wheat yield and quality. At the same time, the company has also carried out more than 650 field trials in 185 counties and cities in 28 provinces across the country, involving 50 crops, over 1300 days, and verified the specific role of Bacillus albus MB35-5 in different crops, soils, climates, growth periods and other conditions. The results show that it has excellent and stable effects in activating soil available silicon, promoting crop growth, enhancing crop resistance, increasing crop yield, and improving crop quality, It has been well received by users.

Therefore, the Company has developed Ayebodo products according to the characteristics of soil and crop , and ARYA MAX Won the title of "Star Product" at CIS (2021) China International Special Fertilizer Development Conference. The research results of MBT multiple biological stimulator series newly developed by the combination of nano+microbial fermentation technology in wheat, cucumber, green onion, tomato, eggplant, leek and other experimental fields show that the product can improve the soil, improve the quality and increase the yield. Once MBT nano suspension agent product (120 organic matter+150 humic acid+20 fulvic acid) is introduced to the market, it is praised by users. Through down-to-earth research and development and field experiments, Monband has created product brands that can withstand market inspection.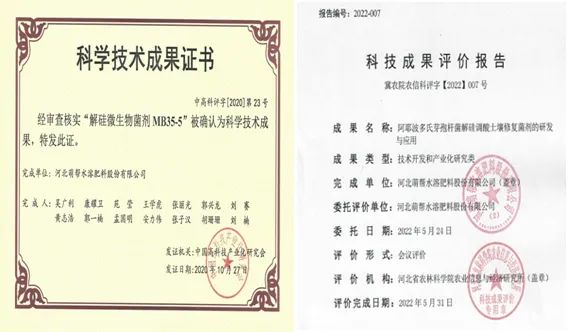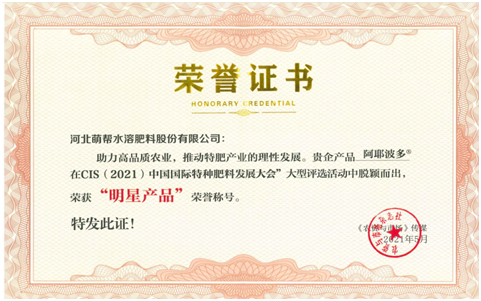 We will strengthen cooperation, enhance innovation capabilities, and turn technology into productive forces. Monband has established an industry university research cooperation relationship and a new mode of joint research with universities, scientific research institutes and powerful enterprises such as the Agricultural Resources and Environment Research Institute of Hebei Academy of Agriculture and Forestry Sciences, the Plant Nutrition and Resources Research Institute of Beijing Academy of Agriculture and Forestry Sciences, the Zihuan College of Hebei Agricultural University, the Agricultural Resources Research Center of Institute of Genetics of Chinese Academy of Sciences, Kangshengyuan (Zhaoqing) Biotechnology Co., Ltd., the Agricultural College of Shihezi University, etc, To improve their own R&D and innovation capabilities and enhance the competitiveness of the industry, they have successively undertaken the National Innovation Fund project "Pilot Test and Industrialization of Medium Element Water Soluble Fertilizers", the Hebei Provincial Science and Technology Plan project "Research on Key Technologies for Integrated Quality Improvement and Efficiency Enhancement of Walnut Pipeline Water Fertilizer Medicine", and the Hebei Provincial Science and Technology Little Giant Project "Environmentally Friendly Ecological Water Soluble Fertilizers", The modern agricultural science and technology innovation project of Hebei Academy of Agricultural Sciences "Research and demonstration of the whole process mechanized production mode of apples and pears", the special fund project of the central government guiding local science and technology development "Demonstration and promotion of in-situ reaction film forming controlled-release fertilizer", and the foreign intellectual project "Research and development of halolytic silicon resistant microbial fertilizer" introduced by Shijiazhuang City. Among them, the project "Farmland quality improvement and nutrient precision management technology in major grain producing areas of Hebei Province" won the first prize of science and technology progress in Hebei Province, and "organic fertilizer efficiency enhancement mechanism and precision management technology for fertilizer and water in protected vegetable fields" won the second prize of science and technology progress in Hebei Province. Through the implementation of the project, the innovative technology can be transformed into productivity, realizing the corporate vision of helping Monband people build the most valuable fertilizer enterprise, and helping global planting owners increase production and income through our products and services.

Brand starts from innovation and grows in quality. Monband keeps up with market demand, continues to innovate and develop, and creates high-quality brand products.